Members-Only Digital Content Network
Hello and welcome to the Cannabis Marketing Association's Members-Only Digital Content Portal!
In this Members-Only Digital Content Portal, you will find videos from past CMA events around the country, members-only blog posts, and data-driven resources to advance your cannabis marketing knowledge.
If you are interested in submitting content, please fill out the content submission form here.
We look forward to building this robust network with you!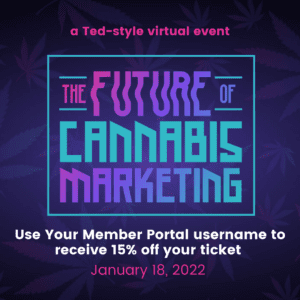 We are now accepting speaker applications for the Future of Cannabis Marketing on January 18, 2022.
To learn more and submit a presentation, click here.
Applications close November 5, 2021 at 11:59pm MT.
CMA CLIP: Cannabis Legalization in NYC: Looking Back and Thinking Forward
CMA CLIP: Bay Area Mixer, April 2019
CMA CLIP: Los Angeles Mixer, April 2019