Date/Time
Date(s) - 06/04/2019
12:00 am
Categories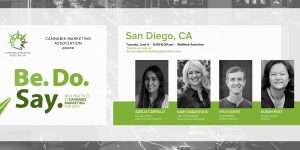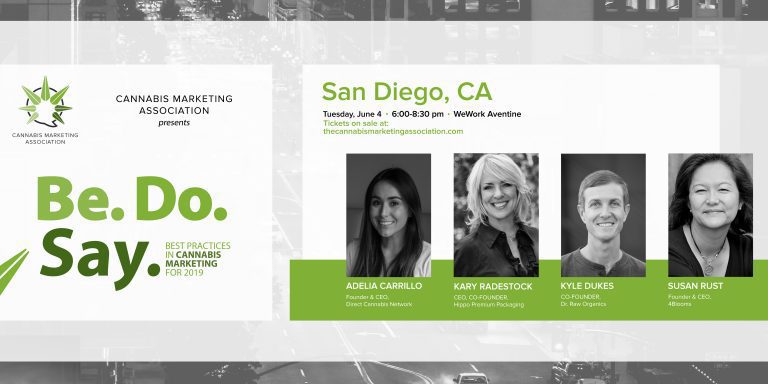 This panel of San Diego based cannabis marketing experts will provide insight into navigating the regulations, best practices, and more.
Best Practices in San Diego Cannabis Marketing for 2019
Legal cannabis has arrived. But with seemingly endless opportunities coming into focus for marketing professionals in our nascent industry, it can be hard to know where to spend your time, money and energy when bringing the next great cannabis product or service to market.
With new legal frameworks and regulations, marketing and communications professionals often find themselves working harder than they need to, spending too much on simple execution, and often finding their campaigns don't earn the proper reach for the investment.
Panelists:
Adelia Carillo, Founder & CEO, Direct Cannabis Network
Kary Radestock, Founder & CEO, Hippo Premium Packaging
Kyle Dukes, Co-Founder, Dr. Raw Organics
Susan Rust, Founder & CEO, 4Blooms
Cannabis companies continue to struggle for access to traditional marketing channels like digital advertising, social media, and mainstream publications. Not to mention, cannabis still faces a huge branding issue as the stigma still pervades.
Join us for a deep, candid conversation with the top local minds in cannabis marketing, communications, and public relations. This panel discussion will be expertly moderated by Lisa Buffo, Founder & CEO, Cannabis Marketing Association.
**Reserve your Early Bird tickets in advance. Ticket pricing goes up Day-Of. CMA Members get in FREE**
Members of the press please email info@marketingcannabis.org with your credentials for press access.
Topics to be addressed in our discussion include:
– Navigating Existing Marketing Regulations
– Authenticity and Inclusivity in Cannabis Advertising
– Improving Your Bottom Line Through Best Practices
Agenda
There will be time for a moderated audience Question & Answer session at the end of our panel discussion. Attendees are encouraged to come prepared with their relevant cannabis marketing questions for our panelists. Light snacks and non-alcoholic refreshments will be provided.
6:00 pm – Doors Open
6:30 pm – Panel Discussion and Q&A
7:30 pm – Open Networking (Light refreshments and snacks provided)
Event Sponsorships Available Now
Get your brand in front of a targeted group of cannabis business owners, executives, and communications professionals. There are 3 corporate non-competing sponsor slots available for this event at $350 each.
Event sponsors receive:
– One 6 foot table and two chairs at the event to showcase your brand to cannabis professionals
– May provide one item for the raffle
– May provide swag items for the group
– Your company logo permanently branded on the official CMA event video which is made available to all CMA members nationally through the CMA Member Portal
– 20% off a First Year CMA Corporate Membership
– May submit a 100-word blurb to the CMA National Newsletter
Speaker Bios
Adelia Carrillo, Founder & CEO, Direct Cannabis Network.
DCN is the leading digital B2B news network covering the latest tech, entrepreneurs and innovative companies in the cannabis industry. With her roots in the corporate and consumer electronics industry, her passion for technology, startups and innovation has been a key strength in her transition into the cannabis space. Becoming a voice for the upcoming startups, uniting the cannabis business community, Adelia is building an inspiring yet prominent voice in the world on the topic of cannabis entrepreneurship. For more information on Adelia Carrillo or Direct Cannabis Network, you can visit. www.directcannabisnetwork.com Twitter/Instagram: @missadelia
Kary Radestock, CEO, Co-Founder
Kary Radestock brings over 20 years of award-winning print and packaging expertise, and has worked with some of the top brands in the world. She launched Hippo Premium Packaging in order to fill a need for professional and compliant packaging, plus branding, marketing, public relations, graphic and web design, and social media expertise to the rapidly evolving cannabis industry. Named "Cannabis Industry Woman of the Year," Kary is a true visionary, and helps her clients increase market share and navigate to a more successful future. Whether it's full brand development or a simple new compliant packaging design, Kary approaches each project with passion, professionalism, and pride.
Kyle Dukes, Co-Founder, Dr. Raw Organics
Dr. Raw Organics is a line of premium infused cannabis products in San Diego, California co-founded by Kyle Dukes and Meghan Muckenfuss. The two crafted homemade cannabis products for prohibition-era dispensaries in San Diego starting beginning in 2011. Dr. Raw's wholesale line of infused cannabis products was soon born, including infused edibles, tinctures and topical balm. Dr. Raw pioneered quality in cannabis products by ensuring use of pesticide-free cannabis oils during a time when most infused product brands were not. Dr. Raw products have earned shelf space in nearly 100 dispensaries throughout California as a result of this integrity. In January of 2019, Dr. Raw formed a partnership with Indus Holding Co. to continue providing this elite standard of quality in cannabis products in the licensed, recreational market. To learn more about Dr. Raw products find us online at www.drraworganics.com, Facebook and Instagram @dr.raworganics and Linked In @dr-raw-organics. 
Susan Rust, Founder & CEO, 4Blooms
With her strong background in enterprise web development and marketing, Susan Rust leads the 4blooms team with a wide range of strategies and tactics related to operations, go-to-market planning, and digital marketing. Throughout her career, Susan's smarts, savvy and spirit have nurtured a team-oriented approach to brand development and messaging for her tech clients and colleagues.
Her focus has always been on people-based marketing through contact social media amplification, brand building, design, website design and build-out, as well as SEO/SEM. Susan has served as Chief Marketing Officer for Benefunder, a philanthropy-based startup that specializes in connecting high-net-worth individuals and families with researchers innovating on medical and societal causes.
She's recognized nationally as a trainer, speaker, and mentor in the Drupal open-source community. As a Business Consultant at Drupal Anywhere, Susan trademarked Client Wrangling and taught firms how to deliver successful projects. Her expertise includes web project rescues and operations specialists who help companies scale through process, accountability and leadership training. Susan is a graduate of North Texas University with Bachelor of Fine Arts degree in Art History.