Best Practices in Cannabis Marketing for 2019 — Boston
February 24, 2019 @ 12:00 am
MST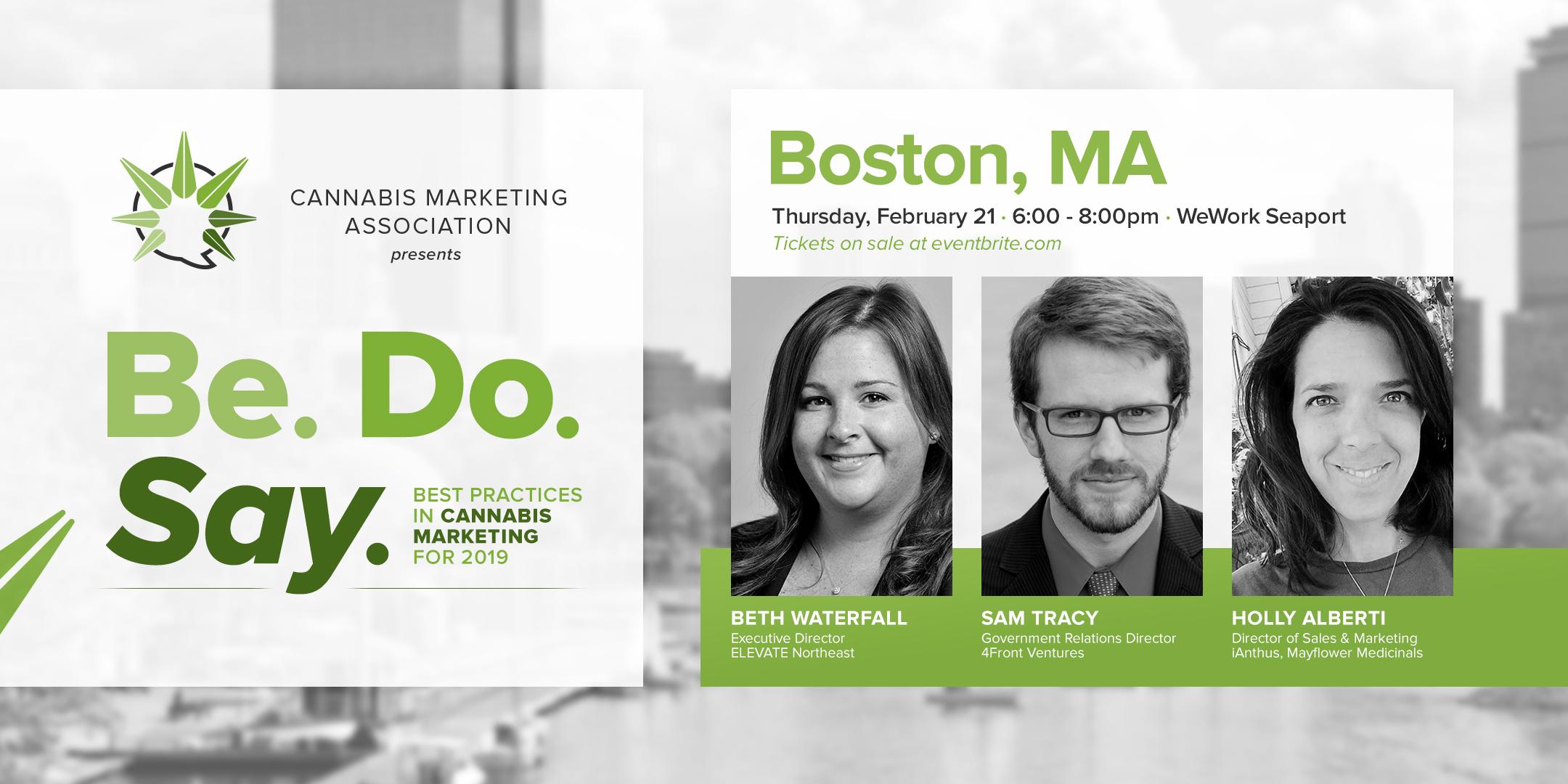 Best Practices in Cannabis Marketing for 2019 — Boston
Legal cannabis has arrived. But with seemingly endless opportunities coming into focus for marketing professionals in our nascent industry, it can be hard to know where to spend your time, money and energy when bringing the next great cannabis product or service to market.
With new legal frameworks and regulations, marketing and communications professionals often find themselves working harder than they need to, spending too much on simple execution, and often finding their campaigns don't earn the proper reach for the investment.
Cannabis companies continue to struggle for access to traditional marketing channels like digital advertising, social media, and mainstream publications. Not to mention, cannabis still faces a huge branding issue as the stigma still pervades.
Join us for a deep, candid conversation with the top local minds in cannabis marketing, communications, and public relations. This panel discussion will be expertly moderated by Victor Pinho, California Director, Cannabis Marketing Association.
Reserve your Early Bird tickets in advance. Ticket pricing goes up Day-Of.

There are only 100 tickets available for this event.
Members of the press please email info@marketingcannabis.org with your credentials for press access.
---
Topics to be addressed in our discussion include:
Navigating Existing Marketing Regulations
Authenticity and Inclusivity in Cannabis Advertising
Improving Your Bottom Line Through Best Practices
Agenda
There will be time for a moderated audience Question & Answer session at the end of our panel discussion. Attendees are encouraged to come prepared with their relevant cannabis marketing questions for our panelists. Light snacks and non-alcoholic refreshments will be provided.
6:00 pm – Doors Open
6:30 pm – Panel Discussion and Q&A
7:30 pm – Open Networking (Light refreshments provided)
8:00 pm – Networking Reception (Cash Bar) at The Envoy Hotel (next door at 70 Sleeper St)
Sponsorships Available Now
Get your brand in front of a targeted group of cannabis business owners, executives, and communications professionals.
There are 3 corporate sponsor slots available for each event.
Event sponsors receive:
One 6 foot table and two chairs at the event to showcase your brand to 100 cannabis professionals
May provide one item for the raffle
May provide swag items for the group (quantity 100)
Your company logo permanently branded on the official CMA event video which is made available to all CMA members nationally through the CMA Member Portal
20% off a First Year CMA Corporate Membership
May submit a 100-word blurb to the CMA National Newsletter
---
Speaker Bios

Sam Tracy
Government Relations Director, 4Front Ventures
Sam Tracy is the Government Relations Director at 4Front Ventures, a leading cannabis consultancy and multi-state operator. He represents 4Front and its clients before every level of government, including presenting before city councils and planning boards, advocating for sensible marijuana policies at the state level, and lobbying Congress and federal agencies.
Sam began his involvement in marijuana policy in 2009 as a member of the University of Connecticut chapter of Students for Sensible Drug Policy (SSDP). He was later elected to SSDP's international board of directors, including a term as chairman, as well as to the board of the ACLU of Connecticut. Through his work with these and other organizations, Sam was instrumental in the passage of marijuana decriminalization and medicalization in Connecticut. He then joined the 4Front team in 2014, moving from DC to Boston. While a Massachusetts resident, Sam was a board member of the Massachusetts Patient Advocacy Alliance and an active volunteer with the successful Campaign to Regulate Marijuana Like Alcohol.
Sam now lives in Portland, Maine. In addition to his work with 4Front, Sam also serves as the chairman of the Portland Democratic City Committee and as the director of the Connecticut Coalition to Regulate Marijuana. He is active on Twitter with the username @SamTracy.
Holly Alberti-Evans
Director of Sales & Marketing, iAnthus, Mayflower Medicinals
Bridging the chasm in cannabis. Holly began her cannabis career on the East Coast, challenging the stigma and getting involved in the Medical program in 2011. She saw a need and lack of experience when it came to marketing, branding and sales; her core competencies and educational training and prior career focus.
She began crafting the vision for Healthy Headie Lifestyle, which was one of the 1st companies to go through Canopy Boulder Incubator. Holly was then asked to join the core team in MA to build out and apply in the 1st round of RMD's in Massachusetts which was successful. Leveraging her 15+ years in customer service, branding and communications and her expert knowledge of the cannabis space, Holly began imparting her business insight and hands-on experience navigating the budding industry as a consultant. Working with industry titans such as Harborside, GoldDrop Extracts, Blue River Terps, Stashlogix and many more on community engagement and business development strategies.
Interviewed by many local and national publications including Huffington Post, Dope Magazine, International Business Times and has appeared in local media, like The Chronicle and nationally on CBS This Morning & VICE. Holly is a 2011 Oaksterdam Alumni, as well as a recipient of a Cape and Island 40 Under 40 Award at age 29. Active in many community groups and advisor and board member, mentor, mentee and cannabis connector.
Holly has been a past speaker and presenter at many cannabis events such as the CCC, NCIA, New West Summit, including Keynote at last years NECCAN. She was also part of the inaugural class CanopyBoulder Spring 2015. Awarded Best Pitch for Healthy Headie: Arcview Denver 2015, NewWest Summit SF, Weedclub.com, and CBWXE 420 Pitch
Beth Waterfall
Founder, Beth Waterfall Creative and Executive Director, ELEVATE Northeast
Beth Waterfall helps cannabis executives and companies grow through effective communications, strategic connections and unforgettable experiences. Recently named to the Boston Business Journal's 2018 40 Under 40 list, Beth is founder and executive director of ELEVATE Northeast, managing director of the New England Cannabis Conventions, and founder and president of cannabis marketing and events consultancy Beth Waterfall Creative. She is a passionate educator dedicated to positive public relations for cannabis and is an ardent advocate for inclusion, leadership and ownership in the cannabis industry for women, LGBTQA+ and other traditionally marginalized groups. Beth has written for the Boston Globe, Ladybud, 1000 Watts and Freedom Leaf magazines, and is a frequent speaker at cannabis industry and marketing events. Learn more at bethwaterfall.com.
Media Partners