Date/Time
Date(s) - 08/05/2019
12:00 am
Categories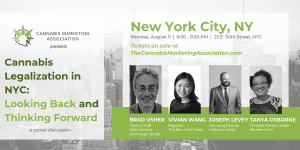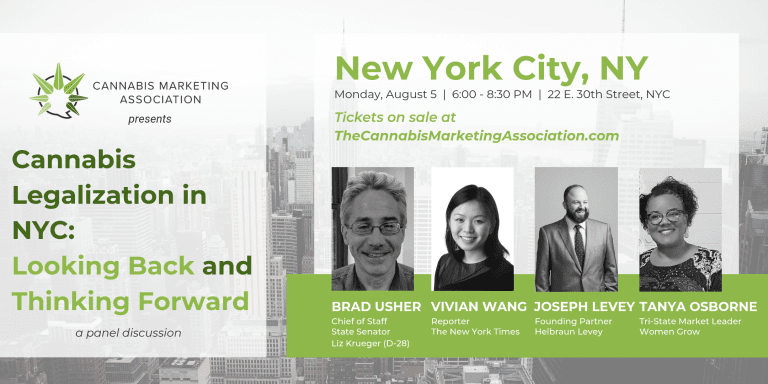 Cannabis Marketing Association is hosting a panel discussion examining how to pass a comprehensive adult-use bill through effective advocacy
New York has been taking steps towards adult-use legalization, but with the last attempt failing to pass during the 2019 legislative season, it is time to look deeper into what happened and why. Hear from government officials, industry representatives, and legal experts about what it will take for comprehensive cannabis reform to happen in New York in 2020 that benefits patients, adult-use consumers, and minority communities impacted by the drug war. This panel will take a look at what happened during the last legislative session and will discuss the critical issues concerning the future of the industry.
Following the event, there will be a cash-bar mixer at the 230 Fifth Ave Rooftop bar at 8:30 pm.
During our hour-long expertly moderated panel we will discuss:
What happened with the failed adult-use bill in New York
How the industry can advocate and interact with government officials effectively
What's important in the political and cultural agenda for a successful adult-use bill to be passed
Speaker Bios:
Brad Usher, Chief of Staff, Senator Liz Krueger's Office (NY D-28)
Brad Usher has served as Chief of Staff to State Senator Liz Krueger for the last 17 years, and has worked on developing a wide range of legislation, particularly around government and electoral reform, tax policy and economic development transparency.  More recently he has been involved in the drafting of Senator Krueger's Marijuana Regulation and Taxation Act (S.1527-B).  Prior to joining Senator Krueger's staff, Brad worked for State Senator Tom Duane, and has also participated in numerous political campaigns. He holds a PhD in Political Science from the New School for Social Research.
Vivian Wang, Reporter, The New York Times
Vivian Wang is a New York Times reporter covering New York state politics and government. She joined The Times in 2017 and previously worked for The Boston Globe and The Milwaukee Journal Sentinel. She grew up outside of Chicago and graduated from Yale University.
Joseph Levey, Partner, Helbraun Levey
Joseph is a Founding Partner of the firm and oversees all New York State Liquor Authority and other licensing matters for the firm. Joseph's primary area of expertise is New York State Alcohol Beverage Control Law and he has extensive experience practicing before the New York State Liquor Authority with regard to various licensing and disciplinary matters. He regularly attends local Community Board meetings on behalf of the firm's clients and has developed a stellar reputation as a well-prepared and knowledgeable advocate.
Joseph proudly serves on the Executive Board of the New York State Restaurant Association, the Board of The American Institute of Food and Wine and is admitted to practice in New York and New Jersey.
Tanya Osborne, Tri-State Regional Market Leader Director, Women Grow
Tanya Osborne is a true community leader in every industry she touches! From the Music Industry to Financial Services, Business Coaching and now…Cannabis. The common theme here is the connection…from being a champion for Women in the Music industry, sharing the importance of women investing in and for their future, Coaching women entrepreneurs and now contributing to changing the stigma of the plant and bringing awareness to the role of women in the Cannabis industry.
She is currently serving as the Tri-State Regional Market Leader Director for Women Grow, a National organization encouraging and supporting women to build and "grow" in the Cannabis industry and is the Founder of CannaDiva, LLC, a brand committed to supporting women in the space from hosting Canna-events and shining a spotlight on women entrepreneurs and the products and services that are women-focused.
A passion for entrepreneurs, diversity, and inclusion, and women-focused initiatives has led Tanya to the Cannabis industry which is positioned for exponential growth. Her goal is to educate, connect and support women leaders in this industry.