Date/Time
Date(s) - 08/07/2019
12:00 am
Categories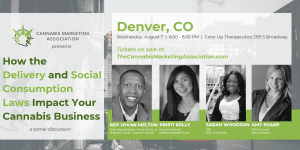 Join CMA and our expert panel to discuss the new cannabis delivery and social consumption laws in Colorado.
Colorado recently passed HB19-1234, The Regulated Marijuana Delivery Bill, and HB19-1230, The Marijuana Hospitality Establishments Bill, changing how cannabis business will operate forever. We are bringing together cannabis stakeholders from all over Colorado, from the government offices to cannabis business to discuss how these laws will impact the Colorado cannabis supply chain and industry moving forward.
During our hour-long expertly moderated panel we will discuss…
How social consumption will change the marketing landscape for brands
How the delivery bill will change the cannabis supply chain
What cannabis marketers need to consider before these two bills take effect
Speaker Bios:
Representative Jovan Emerson Melton (CO-41)
Jovan Emerson Melton is the State Representative from House District 41 to the Colorado General Assembly. He serves as the House Majority Deputy Whip and the Vice-Chair of the Black Democratic Legislative Caucus of Colorado. He is also Founder and Senior Consultant for Emerson Hamilton Consulting and Strategies, LLC based in Aurora.
Born in Denver, CO in 1979, Jovan grew up in a working-class household in Northeast Denver, and later in Aurora. He personally experienced the disparities between social-economic classes. In witnessing the challenges his family faced to make a living, Jovan was taught the importance of equality and social justices early in life. He credits this as what led him into politics and his desire to help lower-income and disenfranchised Coloradans.
Kristi Kelly, Executive Director, Marijuana Industry Group
Kristi Kelly is recognized as one of the country's 50 most powerful women in cannabis, and one of the top 100 political cannabis influencers. She is the executive director of Marijuana Industry Group, Colorado's most impactful trade association for licensed cannabis businesses. Kristi initially entered the cannabis space as an investor/owner/operator of a group of marijuana cultivation, manufacturing, and dispensing businesses at the beginning of legal and regulated medical cannabis, and exited the Colorado businesses. She now maintains marijuana and hemp interests in the licensed space outside of Colorado, and also offers consulting services. She is a founding board member of the Fourth Corner Credit Union, the world's first marijuana financial institution. She is the founding trustee of CannAbility Foundation, a patient advocacy and resource network for families of children living with conditions and disabilities that can be helped by cannabis. She currently sits on the (Colorado) Governor's Marijuana Education Oversight Committee and the Colorado Task Force for Drunk and Impaired Driving. She was the lead profile in the book, Breaking the Grass Ceiling: Women, Weed & Business and has been recognized for years by Cannabis Business Executive as an operator, influencer, and leader. She was recently profiled in The Guardian as one of America's Dope Queens, and her story has also been featured in The Washington Post, 60 Minutes, Bloomberg/Businessweek, The New York Times, and more.
Sarah Woodson, CEO, Kush and Canvases
Sarah Woodson comes from a long line of entrepreneurs, business is in her DNA. After receiving two Paralegal certificates, an Associates of General Studies. Sarah attended CU Denver to pursue a BA in Sociology and a Minor in Legal Studies. She left in her senior year to purser her dream as an Entrepreneur. She founded one of the largest Pro-Se Bankruptcy & Divorce companies in the state, she closed her doors for good in 2017. Sarah had decided that she was going full force into cannabis. Not as a dispensary or a grower but as a Cannabis Experience Provider. She founded of Kush & Canvases, a consumption-friendly cannabis art class. She is currently serving as the legal redress chair for NAACP Denver Chapter.