The Cannabis Marketing Summit is an exclusive 4-day online event for senior-level marketers who work in-house or on the agency side of licensed cannabis companies. As the summit approaches, we want to dive into the content of our panels and speakers.
The panel will feature discussions like our "Cannabis Marketing in 2020," which will start at noon M.S.T. on June 3rd, 2020. Here we will look at data, COVID-19, the election year, and more. We have a fantastic lineup of panelists featuring industry leaders in cannabis marketing.
Click to get your tickets here to learn more about Cannabis Marketing in 2020.
Cory Rothschild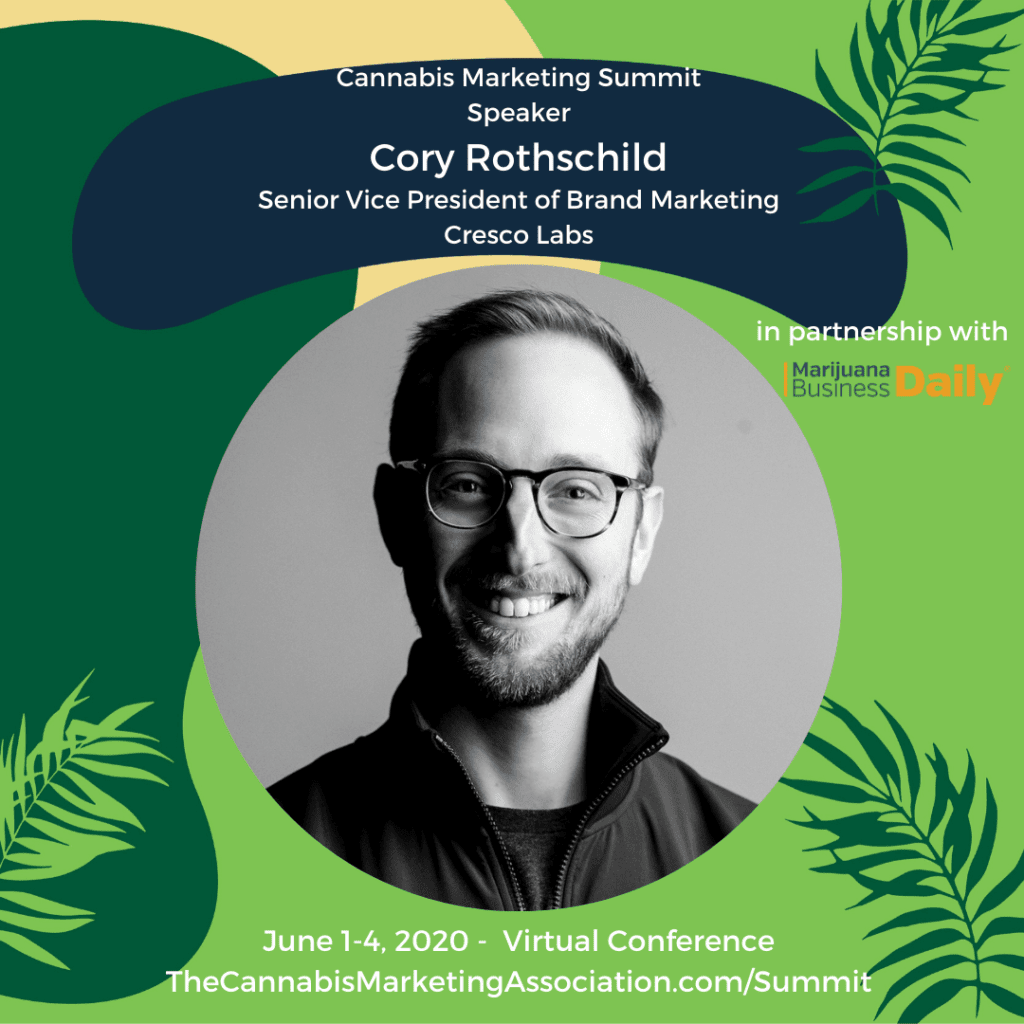 Cory Rothschild is the Senior Vice President of Brand Marketing at Cresco Labs. He is responsible for building and scaling the company's brand portfolio, defining the communication and go-to-market priorities across all consumer touchpoints.
Before joining the company, Cory spent five years at PepsiCo as a leader within the Gatorade business unit. Most recently, as the Director of Consumer Engagement, where he led integrated campaign communication, media planning and execution, branded content, and experiential activation. Additionally in 2015 and 2016, Cory helped guide the turnaround of Prope Water. Propel water is a workout water brand that became the fastest growing enhanced water in the category. Before his roles in brand marketing with Gatorade and Propel Water, Cory developed a passion for brand building as a Principal of the Consumer Practice at The Parthenon Group, a management consulting firm. Cory graduated from Duke University and received his M.B.A. from the Harvard Business School.
Valda Coryat

Ms. Coryat brings with her a unique blend of consumer-packaged goods and agricultural marketing leadership to this panel. Through her brand-building experiences, she has delivered award-winning innovation, and consumer inspired multi-media campaigns. Ms. Coryat has leveraged strategy, analytics, and creativity to drive profitable brand growth at companies such as Colgate-Palmolive, Avon, and Heineken. Before joining Trulieve, Ms. Coryat led the National Mango Board's Marketing across the consumer, retail, and foodservice verticals. Also, she received her B.A. from Duke University and M.B.A. from Columbia University's Graduate School of Business. After a long career in New York City, Ms. Coryat now calls Florida home as it shares much of what she cherishes from her family's origin in the Caribbean.
Click to get your tickets to hear Valda Coryat discuss Cannabis Marketing in 2020.
Hirsh Jain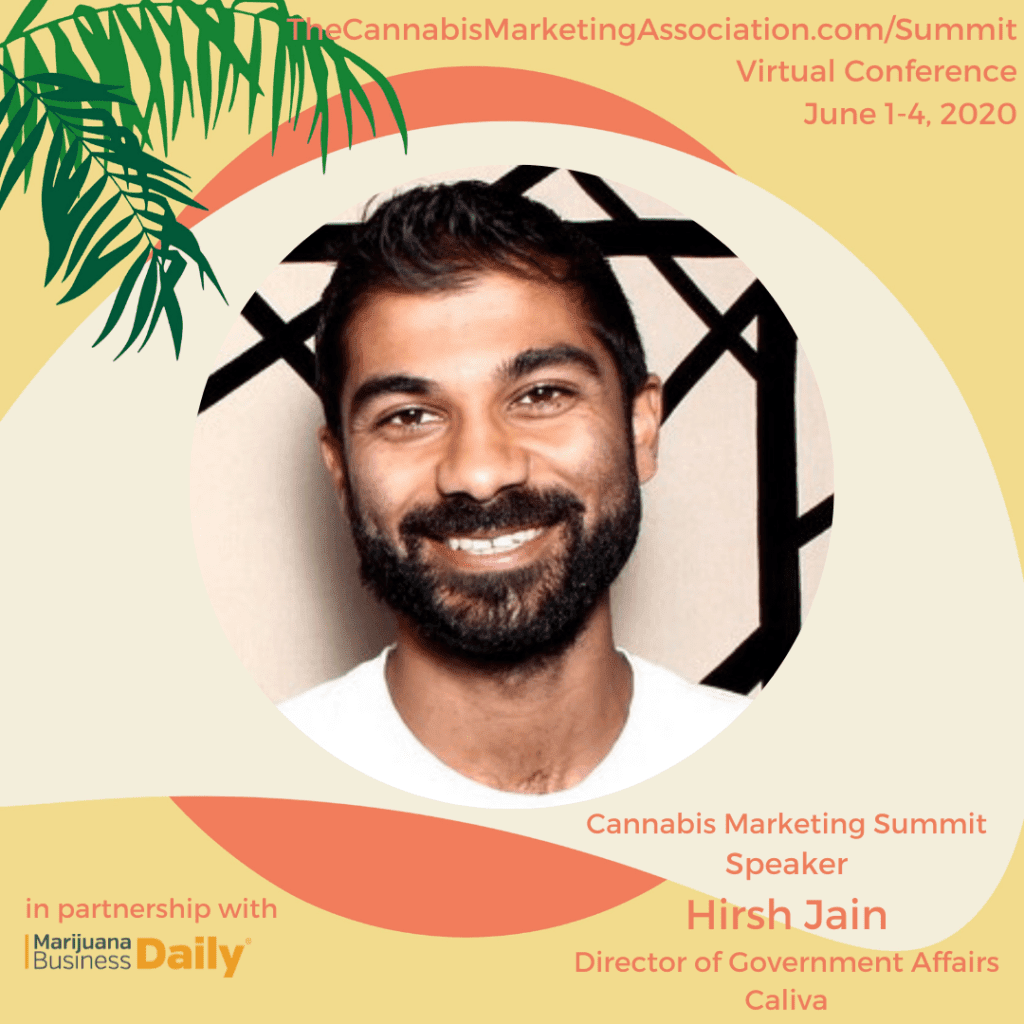 Hirsh Jain is the Director of Government Affairs at Caliva, one of the largest, vertically integrated cannabis companies in California. Previously, he was the West Coast Director of Government Affairs at MedMen, the largest cannabis retailer in the country. Additionally, he managed the company's footprint in California, Arizona, and Nevada.
Before working in cannabis, Hirsh was a Government Affairs Manager at Airbnb in San Francisco. He helped build the company's global policy team from 30 to 300 people. Prior, Hirsh was an Engagement Manager at McKinsey & Company in New York City, working in its Public Sector Practice. Hirsh has a B.A. in Philosophy from UC Berkeley, where he served as the Cannabis Lead in the Campus Public Defender's Office, defending students that were accused of cannabis violations by the University. He also has a J.D. from Harvard Law School, where his focus was on the legal, social, and political impacts of The War on Drugs.
Click to get your tickets to hear Hirsh Jain discuss Cannabis Marketing in 2020.
Bart Schaneman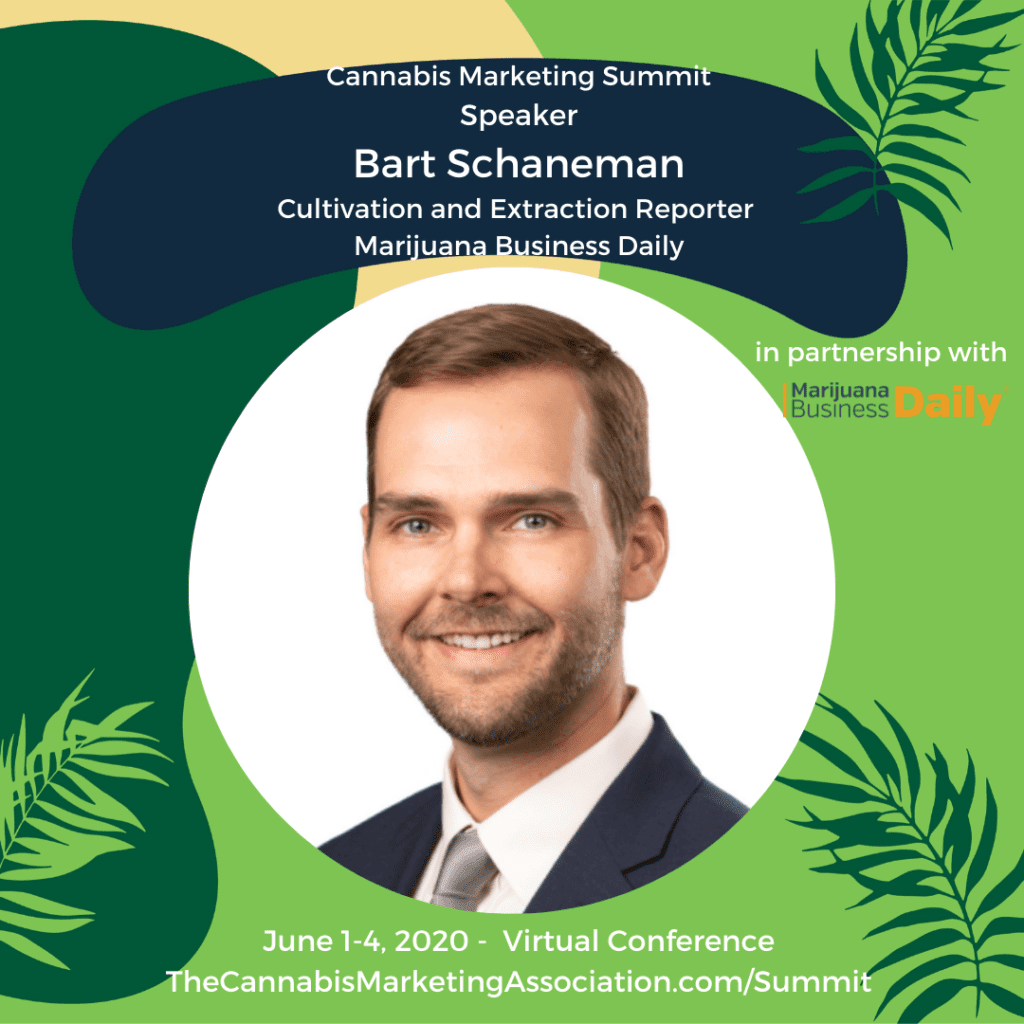 Bart covers cannabis cultivation and extraction. He has worked as a reporter for Marijuana Business Daily and Marijuana Business Magazine since 2016.
Click to get your tickets to hear Bart Schaneman discuss Cannabis Marketing in 2020.
Imani Dawson is a courageous and compelling communications strategist and committed to mission-driven social change. Imani has her own company, T.C.C. Media, an MWBE-certified boutique communications and branding agency specializing in political strategy, progressive social issues, and legal cannabis. Since starting her company, Imani has championed diverse audiences by building community, creating meaningful multi-channel content, and impactful events. Additionally, she has advised elected officials, nonprofit organizations, and small businesses. Imani has helped them by creating and executing marketing and public relations campaigns that win elections, build brand recognition and influence and boost positioning, engagement, and sales.