5 Reasons to Attend the *virtual* Cannabis Marketing Summit this June 2021
by Evaristo Gomez Jr
The Cannabis Marketing Summit is a virtually hosted event from June 8 to June 10. The event kicks off on June 8 at 9:30 am MT and will start with networking exercises before CMA's Lisa Buffo gives her Opening Remarks. To register visit https://thecannabismarketingassociation.com/events/cannabis-marketing-summit-2021/buy-tickets/.
The cannabis industry is rapidly growing to provide new and valuable opportunities for those running their own cannabis business. The Cannabis Marketing Summit will include some of the industry's top brands, influencers, advocates, and marketers that intend to set the Summit's attendees up for success.
Here are the five top reasons to attend 2021's Cannabis Marketing Summit:
You can connect with and meet new people in the cannabis industry.
The cannabis industry is full of trailblazers. Cannabis Marketing Summit will provide an excellent opportunity to expand your brand's reach. Each day kicks off with virtual networking on Gatheround, followed by workshops and panels from those paving the way in cannabis. Whether you are an industry pro or just getting started, the Cannabis Marketing Summit will establish business relationships that last.
The Summit is hosted by Cannabis Marketing Association (CMA), an industry trade group whose mission is to bring a positive perception to and authentic understanding of, cannabis and its consumers around the world. With the summit's virtual format, you can connect with those in the same sector as you or create connections with individuals in markets across the country. After the Summit, you can even become a member of CMA to continue your cannabis marketing journey.
To learn more information on memberships, visit our website.
Learn and engage with creators in their marketing efforts.
Some important topics from this year's Summit will focus on safe and effective cannabis marketing in a harshly regulated landscape. With the fragmentation of markets and lack of cannabis marketing resources, Cannabis Marketing Summit will help attendees explore the work of their colleagues.
Some of the Summit's speakers are devoting their time to increase mobile traffic, both online and in-store. Social media and the digital world have taken many industries by storm. Marketing for cannabis can be difficult across many platforms. Guest speakers will give you the resources to utilize many different types of platforms and navigate the challenges associated with cannabis marketing.
Learn to create and lead creative teams.
The Cannabis Marketing Summit wants to create leaders with the intent to push the future of cannabis marketing forward. The last year has been turbulent. There was rapid social, economic, and political change. The instant changes that continued to change over the course of the year pushed many to construct creative solutions to problems.
The Summit will help engage attendees in utilizing more creative outlets for marketing. Not to mention, attendees can learn to build more creative teams. These teams will help deal with the continued changes in cannabis marketing. The information provided by panelists could help marketing teams achieve smaller goals or tackle larger world problems.
Learn how to advocate for a more inclusive industry.
Cannabis Marketing Association is devoted to increasing awareness to, and helping create social equity in the cannabis industry and intends to highlight the work of BIPOC creators and marketers.
Panelists will discuss strategies anyone can use to ensure there are best practices in place when doing marketing outreach to remain authentic. Marketing resources are one of the first points of contact for most businesses. The panelists will help establish socially responsible marketing practices.
There is a free Pre-Summit training with CMA's Social Equity Program Partner, Marijuana Matters. It is on Monday, June 7th at 12:00 pm MT and is a great way to begin thinking about the summit's equity topics. The training hopes to increase awareness and understanding of social equity, diversity, and inclusion.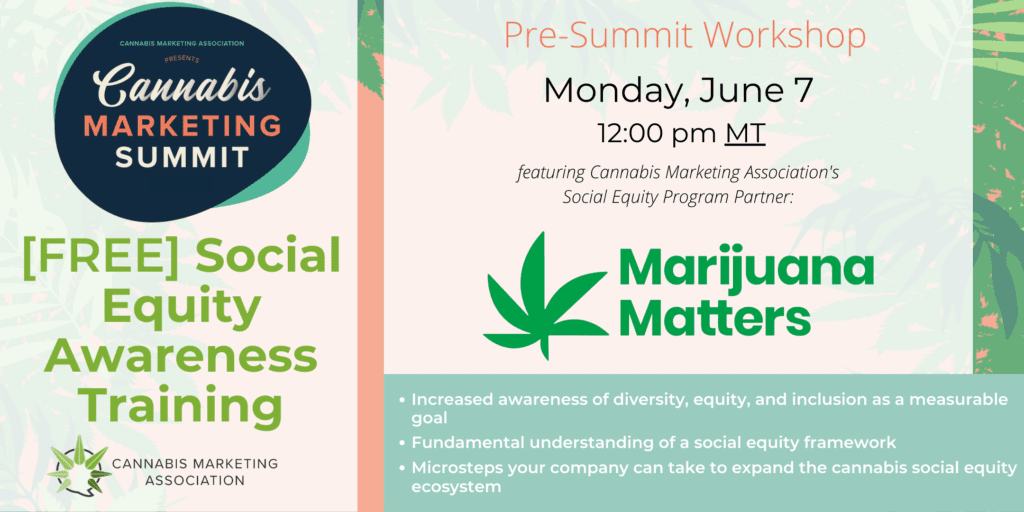 Enjoy the Summit.
The Summit works to create positive experiences for those within cannabis marketing. Our goals of connection, education, creativity, and advocacy are at the root of CMA's cause. The event is open to everyone. If you are a member of Cannabis Marketing Association, you are able to enjoy the benefits of Member-Only workshops at 1:30 pm MT each day.
This year's Summit will be special — cannabis marketing is changing so quickly, and the industry's top marketers will be together sharing their knowledge and experience for everyone to hear.
2021 is a year of change. It is a year of growth, and cannabis is no exception. For more information on panelists and a complete list of events on the agenda, visit https://thecannabismarketingassociation.com/events/cannabis-marketing-summit-2021/.