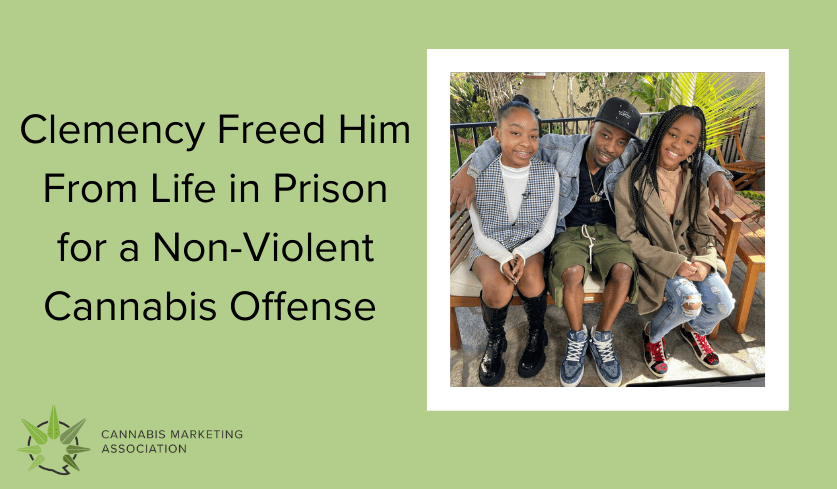 Freed From a Life Sentence for a Non-Violent Cannabis Offense
On January 20, 2021 – Corvain Cooper received news that was better than winning the lottery. Cooper received a grant of executive clemency and was freed from prison during Donald Trump's final hours of presidency. Cooper, now 41, was sentenced to life in prison without the possibility for parole in 2014 for a non-violent cannabis offense.
Previously, Cooper held two non-violent convictions for possession. Both later vacated, when changes in California's law in 2017 reduced both of his prior drug convictions from felonies to misdemeanors. After serving nearly a year in state prison, Corvain Cooper was released in 2012. He worked hard to get his life back on track. Cooper began focusing on his family, being a father, and his passion for clothing. He even opened up a small clothing business in his hometown of Los Angeles. S&C clothing, named after his two daughters, Scotlyn and Cleer.
The store became popular among his community. Yet shortly after, Cooper was arrested, in 2013 when a childhood friend testified against him about his involvement in a 2009 conspiracy shipping operation. According to court documents and proceedings, Cooper was convicted – his third strike – for his involvement and participation in a conspiracy to distribute cannabis from California to North Carolina in 2009; and was sentenced under the 1994 federal crime bill's three-strikes rule.
At sentencing, the prosecutor sought out a life sentence for Corvain under the federal three-strikes law, since Cooper held two previous possession charges. No one else arrested in the same conspiracy, including the alleged leader, was sentenced to a life term.
The nation is continuously working to decriminalize cannabis possession and its use over the last decade. Yet minorities, such as Corvain, are still more likely to be prosecuted for drug possession when compared to white individuals. For this reason, the 1994 federal crime bill's three-strikes law has had a severe impact on minorities.
Cannabis is now legal for medical purposes in 34 states and commercially legal in 15 states including California. Cooper's clothing store, S&C Clothing, shutdown during Cooper's time behind bars and is now a dispensary. After eight years of imprisonment, Corvain Cooper is now reunited with his family including his two young daughters. Thanks to the help of organizations such as, Last Prisoner Project, which constantly fought for his freedom.
40 Tons
Now, the social-impact cannabis brand 40 Tons was launched as a homage to Corvain and his story as well as those still imprisoned serving unjust cannabis sentences. As stated in 40 Tons about page, "They aren't claiming innocence, and must still pay their debt to society, but no one should spend a lifetime in prison for cannabis."
The proceeds from 40 Tons go to help free other cannabis prisoners and the proceeds from this line of merch will go to help Corvain Cooper get back on his feet. Additionally, if you are able, please consider donating to help support Corvain in his reentry so that he can work to rebuild his life. All donations will go directly to Corvain, anything helps.
Come learn, play, and network with us. We're having an amazing time! Sign up for our newsletter and stay informed of the latest cannabis marketing news and upcoming events in your state.