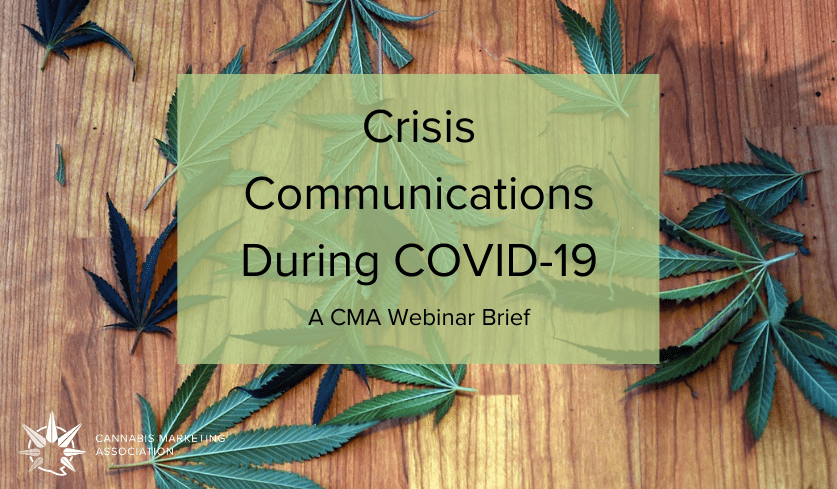 Crisis Communications During COVID-19
A CMA Webinar Brief
Last March, CMA hosted a webinar featuring Jeanine Moss, CEO of J Moss & CO, Ricardo Baca, CEO of Grasslands, Marji Chimes, CMO of Coda Signature, and Dan Gardenswartz CFO of Spherex.
The webinar went into an in-depth conversation about crisis communications during COVID-19. How are you communicating during this crisis? Are you communicating through it? The discussion featured insights and strategies on how to communicate effectively with stakeholders. Furthermore, the conversation ended with a Q&A session from members.
What is Crisis Communications?
Ricardo Baca explained that no matter how you define a crisis, we are currently living in one. Like reputation management, crisis communication is an aspect of PR. It's worth considering how you are communicating during this crisis. Baca revealed that it is crucial to create a narrative for your brand to steer through the industry while differentiating yourself from others.
Additionally, Baca said that essentially a good narrative is the basis of crisis communication. Crisis communication is all about protecting your brand, executives, and industry.
As you stand up and manage crisis within your brand in the markets that you operate in, you are standing up for the industry as a whole. This is an important aspect of crisis communications in cannabis.
How Do You Define Crisis Communications as it Relates to COVID-19 for Your Brand?
Baca explained in the webinar that all communications start with a target audience. Communicating to target audiences based on their needs is essential because the message will differ based on whether they are customers, regulators, or partners. Additionally, Baca said that this is a foundational concept in crisis communications, especially during COVID-19.
Figuring out how to communicate with each of your different target audiences ensures that you carefully craft each message to them. This will essentially build open communication with your audience, and being proactive and regular with your brand's outreach will aid in this.
To Watch the Full Webinar, Become a CMA Member
The webinar continued with a discussion and examples of effective ways to execute crisis communication successfully. Furthermore, the conversation progressed into topics ranging from internal managing to communicating effectively with your stakeholders.
Watch the full webinar to get more insight on crisis communication by becoming a CMA member today!