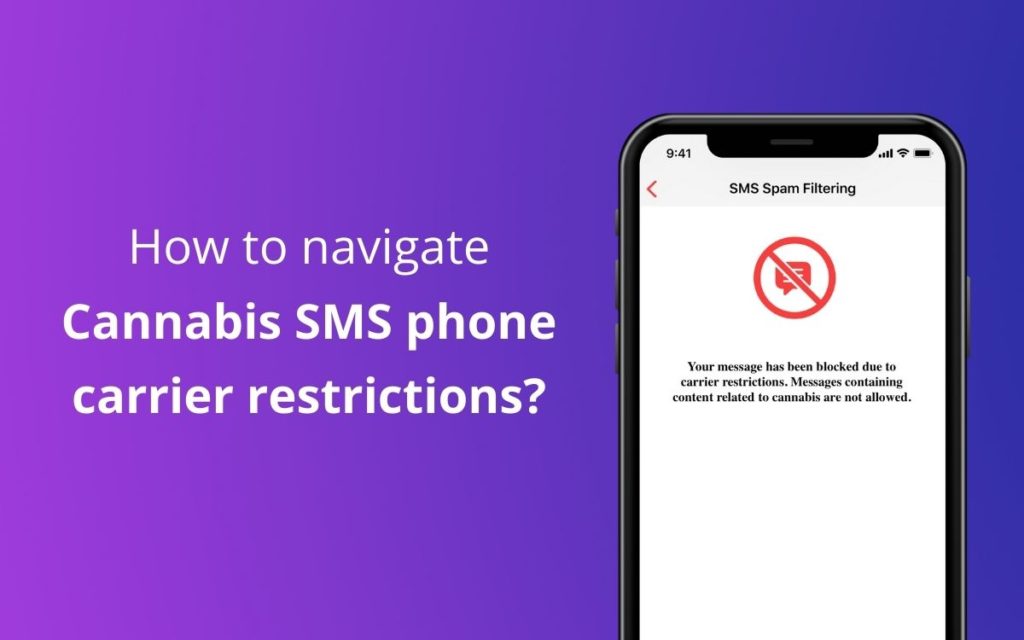 From cannabis consumption regulations to irksome social media guideline policies, cannabis businesses are no strangers to overcoming obstacles. Despite this, a new problem has emerged that has taken aback many dispensaries across the United States. We are talking about text messaging carrier restrictions.
These restrictions have impacted the way dispensaries lead marketing efforts, generate sales, and stay in touch with their customers. This is forcing owners to rethink the way they contact and retain their current customers. According to The National Cannabis Industry Association "a few SMS platforms, including AT&T, Twilio, Avochato, & T-Mobile, have announced they are terminating services for cannabis companies." Making it near to impossible for cannabis businesses to reach their customers and stay compliant with federal regulations when it comes to the cannabis industry. 
 As a result of this, we've found ways to bring alternate solutions dispensaries can use to reach and retain customers without the need of passing through phone carriers restrictions.
Alternate Mobile Solutions: Push Notifications, In-App Alerts, and Geo-Targeted Alerts
Just because text messaging campaigns are harder to execute effectively, it doesn't mean you have to discard mobile communication altogether. By having your own dispensary branded mobile app, you will be able to reach your patient in numerous ways, such as Push Notifications, In-App Alerts, and Geo-Targeted Alerts.
Push Notifications:
Similar to SMS/MMS campaigns, push notifications are a great alternative to reach your customer base. The best part?
You eliminate the middleman, and it's FREE.
With push notifications, you get to execute your marketing campaigns without the assistance and limitation of phone carriers. Once your customers download your mobile app, you'll be able to reach them from anywhere at any time. It helps you create the perfect scenario for you to announce new products, loyalty programs, special offers, and more, keeping your customers one click away from your next sale.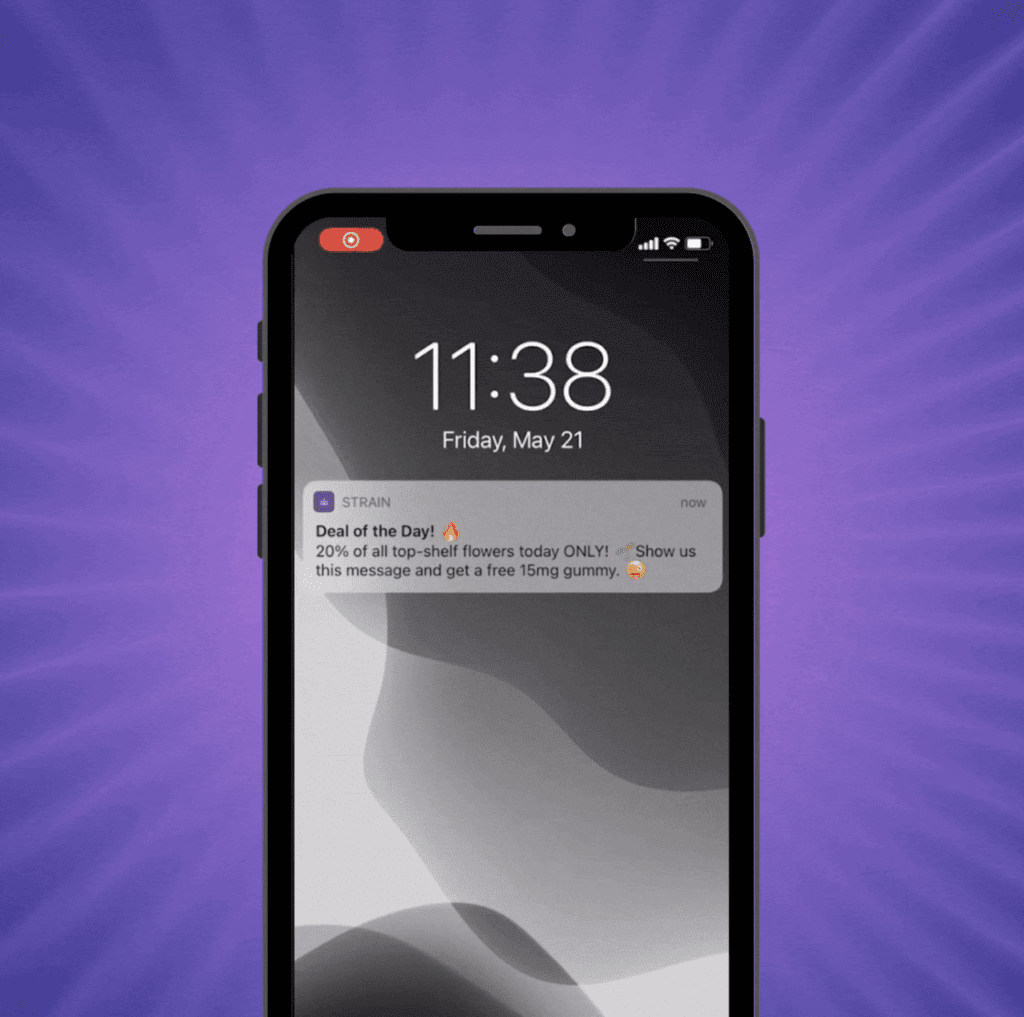 In-App Alerts:
Get your latest deal or product to pop up on your customers' screen as they navigate through your app's product selection. These alerts allow you to gain customer loyalty, close the gap between your sales, and increase customer retention by offering exclusive in-app discounts and deals. Dispensary owners can also use this feature to reward their customers or even highlight their best-selling products.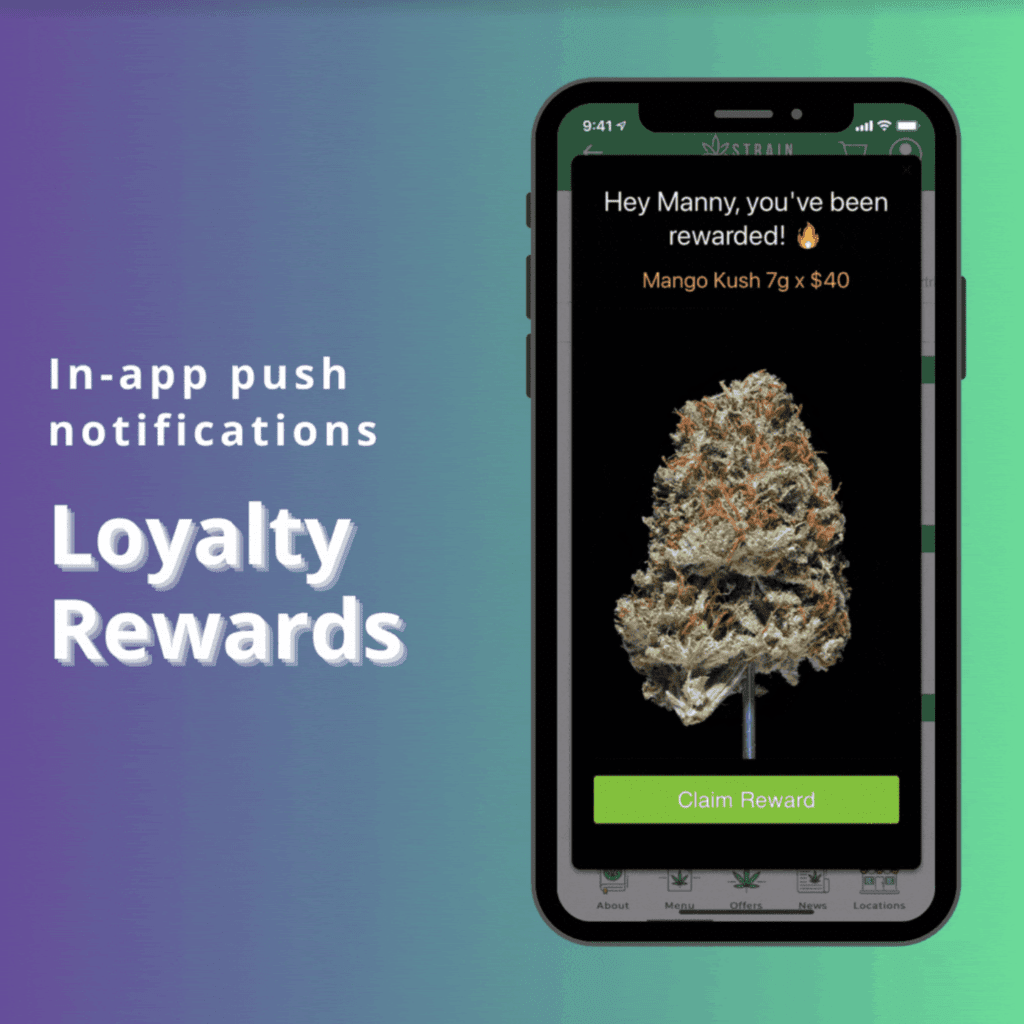 Geo-Targeted Alerts:
Sometimes customers need a nudge in the right direction. This is why geo-targeted alerts can come in handy and result in very helpful client outreach.
If you are having a slow day, geo-targeting alerts allow you to send out an alert, exclusively, to nearby customers. Dispensaries can also set up a customizable call-to-action to attract customers as they are on their way to another destination nearby. 
Alternate Non-mobile Solutions: Email Marketing and Direct Mail
Email Marketing:
Another SMS alternative and customer retention strategy you can look into that doesn't require you to invest much is email marketing. Just because some email marketing software companies (e.g. Mail Chimp) have restrictive cannabis policies doesn't mean you should write off email marketing as an option. Email marketing software such as Moosend, Hubspot, and Drip are known to be cannabis-friendly and will help you lead the effective campaigns you need to stay in your client's mind.
Using the right software will help you maintain and strengthen the relationship you have with your current customers. Not only will you gather another way to contact them, but you'll be able to segment them into specific audience lists. This can be useful if you want to attract and target specific shoppers, such as customers who haven't shopped in your store in a while. Besides sending deals with a good call-to-action, many dispensaries have started sending monthly newsletters to engage with their customers. These can include anything from your product catalogs to updates about industry events, trends, and news. 
Email software, unlike text campaigns, will help you improve your CRM and reach a better understanding of what your customers want and need from you. Most software have features that will allow you to track, measure, and analyze the performance of each campaign allowing you to see what works and curate effective campaigns to increase sales.
Direct mail:
This friendly reminder might be what you are just looking for. Although direct mailing is a bit old-school, it still has shown to be effective in some small cities or when targeting an older audience. Some cannabis business owners have found success reaching current and potential customers by leaving brochures, flyers, and coupons in people's mailboxes, which is why it might be a cost-effective strategy worth looking into.
If we have learned anything about SMS restrictions, cannabis businesses need to diversify their communication streams and find more ways to stay in touch with customers. Whether it's by trying more traditional methods or by investing in a unique mobile app, you should start exploring different ways to lead effective campaigns and stay ahead of the restrictions our industry has yet to face.

Author Bio: Elisa Gómez 
Elisa joined STRAIN in 2020 and is responsible for creating engaging marketing campaigns that increase company brand awareness and reach within the cannabis industry. Before STRAIN, Elisa has worked in the venture capital, startup, and advertising industries helping companies determine the right innovative strategies and creative solutions to achieve their goals.
Legal Disclaimer
The information provided on this website does not, and is not intended to, constitute legal advice; instead, all information, content, and materials available on this site are for general informational purposes only. Information on this website may not constitute the most up-to-date legal or other information. This website contains links to other third-party websites. Such links are only for the convenience of the reader, user or browser; Cannabis Marketing Association and its members do not recommend or endorse the contents of the third-party sites.
Readers of this website should contact their attorney to obtain advice with respect to any particular legal matter. No reader, user, or browser of this site should act or refrain from acting on the basis of information on this site without first seeking legal advice from counsel in the relevant jurisdiction. Only your individual attorney can provide assurances that the information contained herein – and your interpretation of it – is applicable or appropriate to your particular situation.
Use of, and access to, this website or any of the links or resources contained within the site do not create an attorney-client relationship between the reader, user, or browser and website authors, contributors, contributing law firms, or Committee members and their respective employers. The views expressed at, or through, this site are those of the individual authors writing in their individual capacities only – not those of their respective employers or CMA. All liability with respect to actions taken or not taken based on the contents of this site are hereby expressly disclaimed. The content on this posting is provided "as is;" no representations are made that the content is error-free.