CMA Member Spotlight: Bob Sillick
Contract content researcher, writer, editor, and manager; self-employed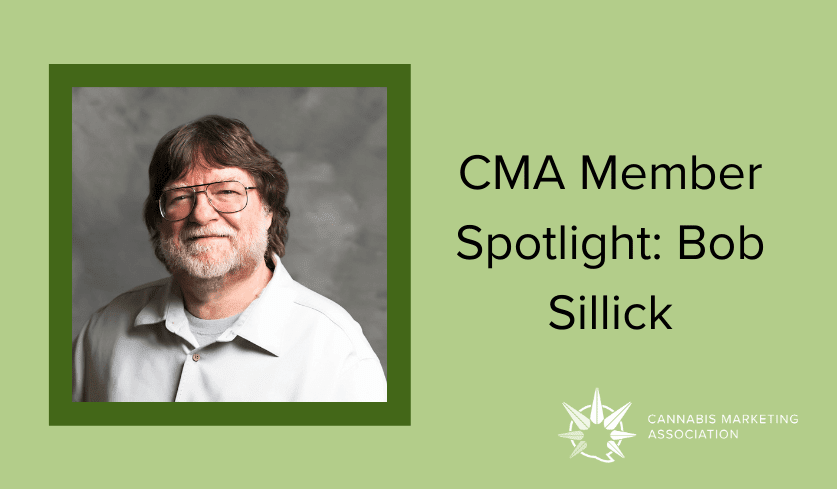 Bob Sillick, a Cannabis Marketing Association member talks to us about his job and the benefits of a CMA membership.
What is the nature of your day-to-day job?
Primarily researching and writing about the current status of a multitude of retail sectors, traditional media, the auto industry, digital media, e-commerce and technology.
Bob Sillick, what brought you to the cannabis industry?
An exciting new business/retail sector with the possibility of many opportunities for my services.
What do you bring to the cannabis marketing industry?
Many years in marketing and advertising and a thorough understanding of the current retail environment and content marketing needs of all businesses.
What do you want your peers to know about you?
Of equal importance to me to serve my clients (and keep a roof over my head and food on the table) is a constant focus on self-learning and increasing my knowledge about a myriad of topics, including history, world literature, the arts and science.
Bob Sillick, tell us a bit about your personal relationship with cannabis. How do you use it?
It has been a constant companion for almost 50 years.
How has your job changed since cannabis was deemed essential? What does cannabis being deemed essential mean to you?
No change, except the continuous growth of the market, creates more potential opportunities to help the many start-ups.
Why did you join CMA?
Having moved to Colorado during May 2019 to escape Florida and to find opportunities in the cannabis industry, I joined CMA to create some exposure for my services.
Bob, what is your favorite part of being a CMA member?
Networking and meeting people.
CMA's mission is to bring a positive perception to, and authentic understanding of, cannabis and its consumers around the world. How are you working to bring a positive perception to cannabis and its consumers?
Although the content I write about cannabis often requires a general tone, I also try to focus on the positive qualities of cannabis.
Find out more about Bob Sillick by connecting with him on LinkedIn.
Join Bob and other cannabis marketers and content creators by becoming a CMA member today!