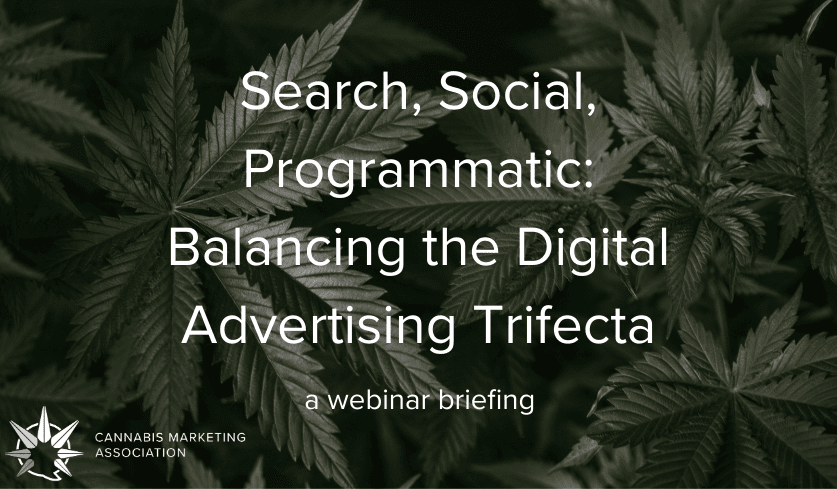 CMA Webinar Briefing: Search, Social, Programmatic: Balancing the Digital Advertising Trifecta
By Vyla Carter
Phil Parrish and Chris Shreeve recently spoke to CMA members over a webinar about digital advertising in the cannabis and CBD industry. The two speakers explain how to use programmatic and other methods to further digital cannabis advertising. Parrish and Shreeve are Co-Founders of PrograMetrix, a programmatic advertising agency.
Owned, Earned, and Paid Cannabis Media
Together, they spoke about how to balance the digital advertising trifecta of owned, earned, and paid media. They discuss these types of media in a broader sense. They then applied it to the cannabis and CBD industries.
Owned, earned, and paid media all can work together to help a company get noticed. The speakers go in-depth on these types of medias and how to best utilize them for digital cannabis advertising. Learn more about these types of media by becoming a CMA member and watching the full webinar.
Digital Cannabis Advertising Restrictions
The webinar discussion also included current mainstream advertising trends in the U.S. and how they relate to the cannabis and CBD industry. These trends are important to understand, however, this industry defers from the mainstream, as there are more restrictions.
Cannabis and CBD brands generally cannot advertise on TV and radio. It is difficult, if not impossible, to get ad placements on Facebook, Instagram, and Google. Facebook and Instagram ad policies are ambiguous, causing confusion and making it hard and unpredictable to get ad approval. Cannabis ads are banned from these platforms, meanwhile, ingestible hemp and topical CBD ads are sometimes approved. Google's ad policies are also ambiguous and unpredictable, according to the speakers. Cannabis and CBD text ads are banned while hemp keywords on ads are sometimes ok.
Ad approval on these platforms is hard to get, but the speakers gave advice on how to possibly get ad placement. This advice included removing all CBD messaging from ad and launch campaigns. In addition, they discuss how to keep your ad from getting removed if it does get approved.
Programmatic Cannabis Advertising
They then explained programmatic advertising for cannabis and CBD brands. Programmatic is automated, digital ad buying in real-time. Programmatic allows for digital cannabis advertising across thousands of mainstream, high traffic websites. It allows your audience to engage on all digital devices and channels and uses data-driven strategies to precisely target your ads.
They gave solutions to cannabis consumer targeting. These included targeting consumers who have cannabis apps installed on their phones and targeting cannabis shoppers who visit specific dispensaries using location-based mobile geofencing data.
They also talk further about compliant advertising on mainstream websites. The speakers emphasize that our audience is evolving, and we are no longer trying to market to just the cannabis consumer. We can now reach cannabis consumers on nationally recognized websites outside of social and endemic cannabis sites.
They conclude by reminding the audience about the importance of campaign performance measurement. You want to evaluate the metrics that matter the most to your business and evaluate data from an ad campaign.
How to Watch the Webinar
CMA Members — log in to the Member Portal.
Not a Member? Join today to access dozens of videos and attend our online events.