Social Equity Within the Cannabis Industry:
Party Like A Marketer Cannabis Marketing Podcast Episode 6
This episode of Party Like A Marketer features guest Darius Kemp, Head of Equity and Community Change at Eaze. Darius's discusses the unique issues surrounding social equity within the cannabis industry and what cannabis brands can do to improve their position and advocacy around social justice.
Darius's Early Life: Childhood in Alabama
Born and raised in Birmingham, Alabama, Darius grew up in a union household, as his dad was a member of the Railroad Workers Union at the time, which is very unusual in the south, and mother who was a nurse. Through his education at a historically black university [HBCU], Alabama A&M University, and experiences growing up queer in the south, he developed a passion for improving the living conditions of underserved communities. Receiving his B.A in Political Science and Criminal Justice, and after working on various political campaigns in Alabama, he joined the Service Employees International Union [SEIU] as an organizer.
Passion to Help Others
After several years of mobilizing and engaging with workers in unions, he joined the Peace Corps and served in Jamaica as an At-Risk Youth Advisor. Following the Peace Corps, Darius enrolled in graduate school at the University of Birmingham in Edgbaston, England, receiving an M.A in Political Science and International Relations with a concentration on Human Rights. Returning to the U.S over the next decade Darius became the Organizing and Communications Director for The University of California Student Association [UCSA]; Regional Director for Working America, the Community Affiliate of the AFL-CIO, and joining The Representation Project [creators of Miss Representation and The Mask You Live In] as the Director of Mobilization Also, in pursuit of more autonomy, he began Just Kind Consulting to support organizational change and advise progressive political campaigns. Currently, Darius serves as the Head of Equity and Community Change at Eaze Technologies, focusing on improving the cannabis industry's standards for social equity partnerships and systematic change. 
First Step Into the Cannabis Community
For most of his life, cannabis was demonized where he grew up in Alabama. The fear of cannabis was instilled inside of him. This caused Darius to hold off on smoking until he was 23. About a year after starting his own consulting company, Darius received a call from his cousin regarding the cannabis industry. His cousin was looking for advice on how to invest in the cannabis industry. Through his research, Darius realized that social equity is a core issue in the cannabis industry recognizing that people of color are disproportionately left out of business opportunities. Darius wanted to learn who the industry power players are and understand how the industry works in order to move the needle on issues of social equity. That is when he came across Eaze. Through his job search, Darius realized that there were no staff dedicated to community or social equity within many industry businesses.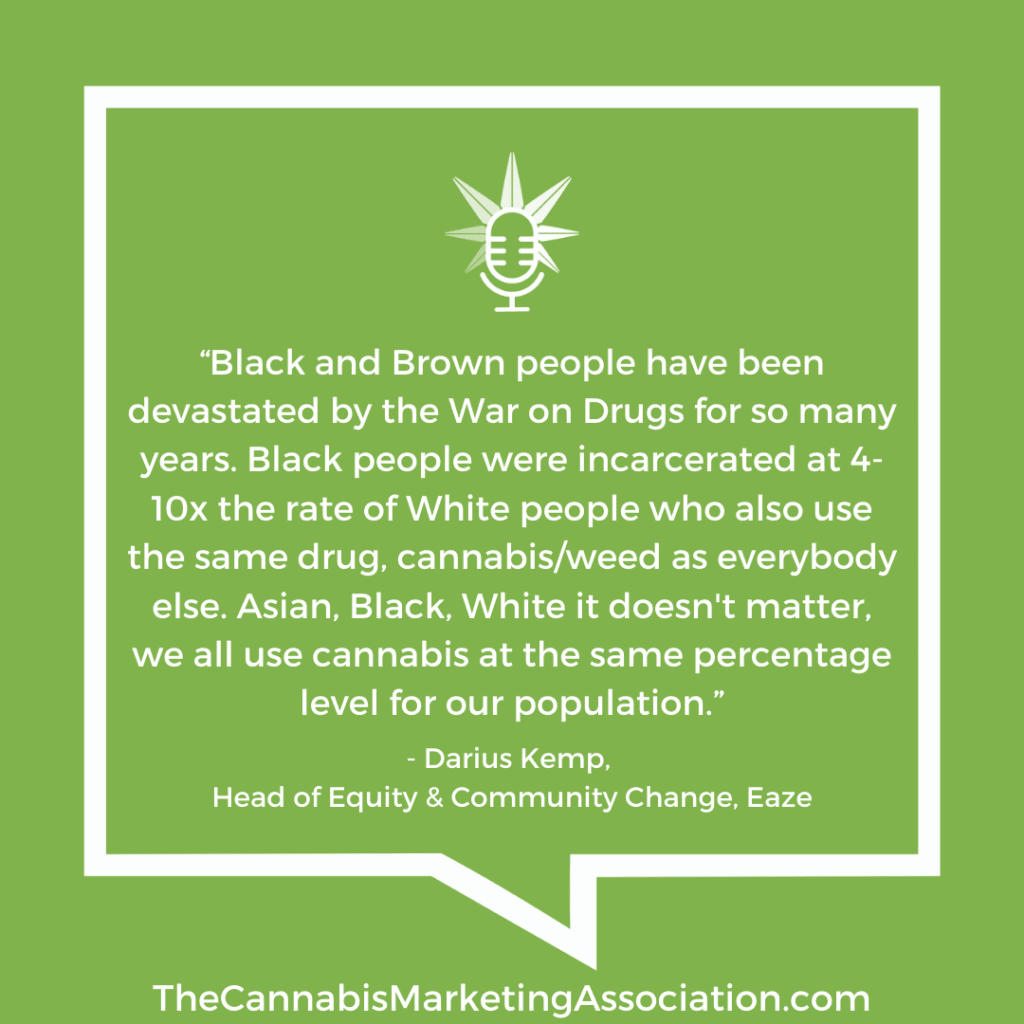 Working at Eaze
Eaze is a tech company, not a cannabis company. Eaze was one of the first companies hiring specifically looking for professionals to further understand and improve social equity issues. 
While working at Eaze, Darius found ways to engage directly with black communities. Speaking to the how, "they are reaching out to their partners who may have the expertise and staff — myself and others in the industry." It comes down to utilizing your community and industry to learn from one another. 
Social Equity Within the Cannabis Industry
Steps for cannabis companies to engage in this conversation further for companies that want to do something but do not know how or do not have the funds.
Step 1:
Ask the right questions. Questions like, what resources do you have available to implement social equity programs? Do you have the staff that would be willing to do this or put in the sweat capital? Do you have the finances for a program?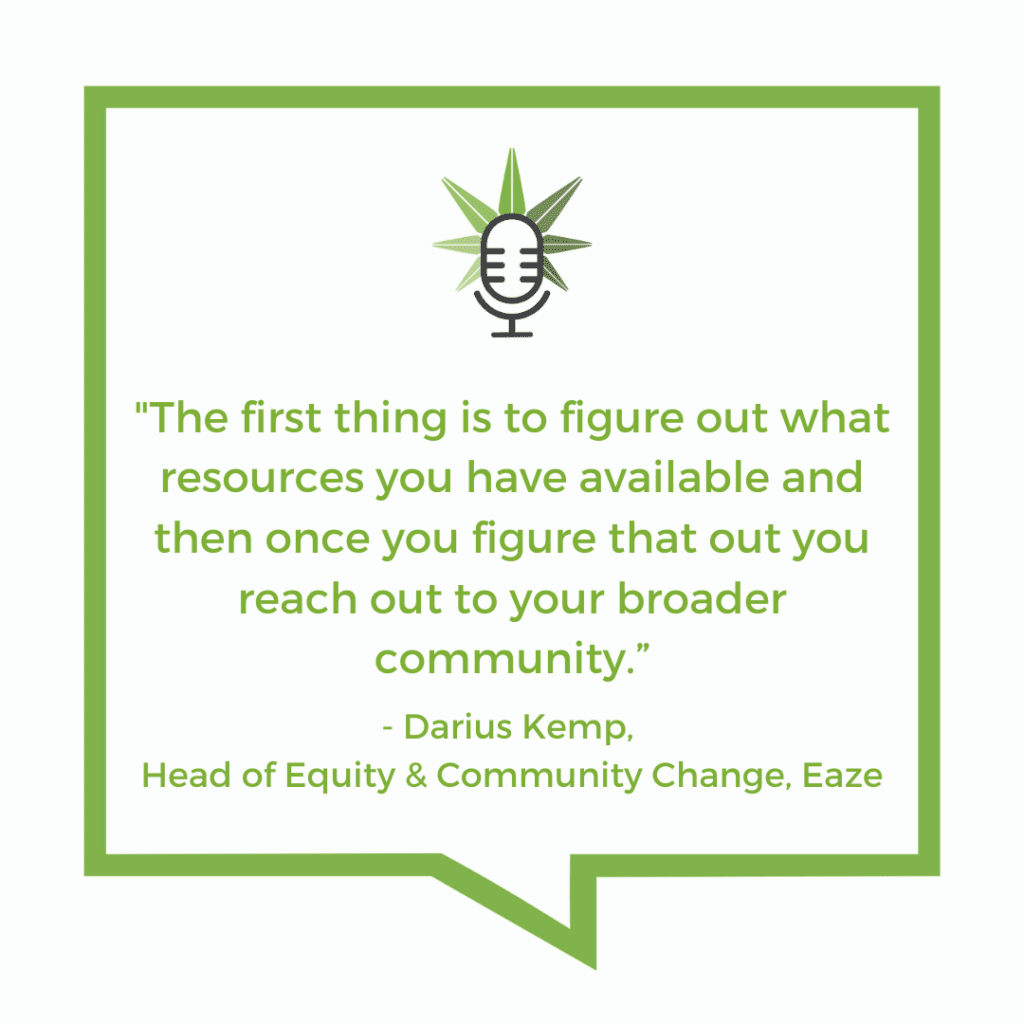 Step 2:
Once these questions are answered, reach out to those in your community that need help. Target your resources to those who need it. Social equity can be looked at as a numbers game for a lot of big companies, so smaller local businesses are better targets.
Watch the Full Episode here –>
The issue with having real targets for social equity programs is that you do not want to disrespect anyone. Having more people of color working for your company should not be a quota. Darius said, "If you're just looking for a body to fill a gap, then you pick anybody whether or not they're good. And what subsequently happens is that this person may not have the support, and they may not be fit for the position, and then you have other workers saying oh, they were the equity hire or we hired this person of color so that people don't think we are racist. The problem with that is the person hired doesn't feel valued." Just filling a position without support or further consideration can do more harm than good.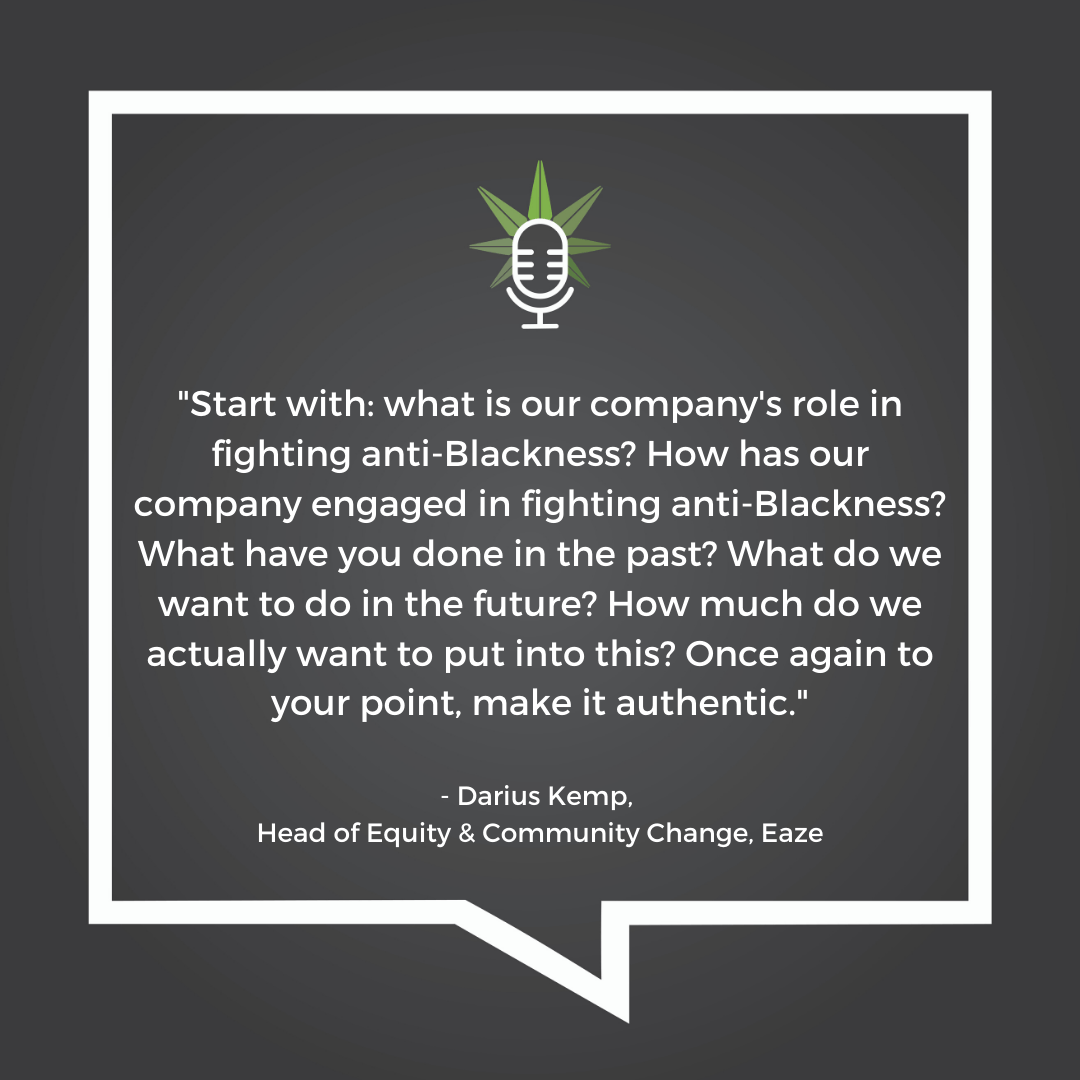 How to Implement Social Equity at Your Cannabis Company
When you set up different programs for diversity, what happens is that these programs often become removed from the main business of the company. Darius gave the example of baking a cake, "You have a layered cake, and as you're layering the cake you decide that you do not like one of the layers, you just remove it." He says the same goes for these programs if you organize them in a "layered" fashion. If at any point a program becomes uneconomical, the company gets tired of it, or it has caused more "harm" than good, then just take that layer off. Darius says the first layer to go usually is an equity program. Therefore, he believes that if you have equity programs so deeply rooted within your company, getting rid of them will cause the whole company to unravel. Ingrain these structures so deep into the company so that you can never take them off unless you want to revamp your entire company. Truly make the diversity programs the "marrow" of the company. With this information, ask yourself, "what is the structure of our company to fight anti-blackness," what can you do to add this structure to your company? Restructuring your company may be your answer. 
Learn more about Cannabis Marketing Association membership and join the community, here.