By Alex Apfel
Due to restrictions surrounding the placement of Cannabis related advertisements, marketers are forced to find new unique ways to spread brand awareness and gain new supporters. One alternative to laws preventing billboards or advertising in certain areas is the Adopt or Sponsor a Highway programs. These programs are not only a great way to demonstrate corporate social responsibility but also a great way to legally advertise a cannabis company.
These programs range anywhere from $200-$900 a month depending on location as well as the initial cost of putting up the sign. These are significantly less expensive than roadside billboards but are still a significant advertising or marketing opportunity. According to the Adopt A Highway programs 2019 media kit, the average CPM is 20 cents, which is significantly less than other advertising outlets.   
Adopt A Highway
As a result of signing up for the Adopt-A-Highway program your company will have its brand name on a sign located on the side of the road that your company is responsible for maintaining. There is an initial fee for putting up the sign and adopting the highway as well as monthly fees. The company is then responsible for picking up litter at an agreed upon amount of times each year. Companies are typically assigned a section of the road from one mile sign to another and that is their designated section to maintain throughout the agreement. 
These highways are considered less trafficked than the highways offered through the sponsor a highway program but are still great opportunities to increase brand awareness. Hundreds of thousands of people drive by these signs daily offering the opportunity to reach new consumers. Through the Adopt A Highway program companies that are adopters are responsible for getting their teams out a specific amount of times each year to collect litter. When people see your whole team out working throughout the year as well as your sign it increases brand recognition and recognition of corporate social responsibility. Actively working towards an important cause such as the reduction of litter on the sides of roadways is a key way to differentiate your brand in such a competitive market.
The Sponsor-A-Highway or Clean Colorado Program as a Cannabis Marketing Alternative
The Sponsor A Highway programs are also great alternative opportunities to advertise and market your cannabis brand. This program is similar to the Adopt a Road program because you are paying for the sign with your company name to go on the side of that designated road but this also includes the company's logo whereas the adopt a road signs are strictly just the name and no logo or graphics. This is one advantage of the Sponsorship vs Adopt a Highway programs. 
One major difference of the sponsor a highway program is these roads are more trafficked than adoptable ones. Due to the increased traffic the government has deemed it too hazardous to have untrained civilians picking up litter on the side of busy highways. By Sponsoring the Highway, your financial contributions are going towards the maintenance of that roadway rather than it being your company's sole responsibility to pick up trash along that section of the road.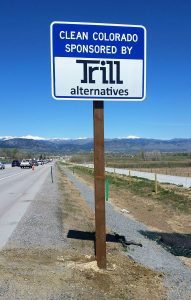 Brand Awareness & Identity
The Adopt or Sponsor a road/highway programs are great opportunities for companies to give back to the community while building brand awareness. Consumers prefer to support a company with similar ideals, values, and goals that they can align or identify with themselves. By actively working or contributing to the maintenance of these major highways, companies are increasing brand awareness and solidifying brand identity. Consumers would rather support a sustainable company they constantly see making a difference then one that ignores its corporate social responsibility. 
These programs can be beneficial no matter the location but it is ideal to try to sponsor or adopt a road near your brick and mortar locations or the closest exit to your retail locations. Even consumers who may not think they are being persuaded by your contribution and signage are being subconsciously swayed through the consistency of seeing the sign. The increased visual exposure of your company is key to driving new customers. By consumers constantly seeing your company name or logo on a sign, you're increasing brand recognition. Brand recognition is another important goal of advertising and marketing. By increasing brand exposure and recognition companies can affect the subconscious decision making process of consumers. Constant exposure to one brand in particular can affect someone's preferences without them realizing.
Sustainability in Cannabis Marketing 
These programs are all about sustainability and advertising. Not only is your company reaching new potential customers but it is also showing previous customers the importance of sustainability to that brand. In such a competitive market it is hard to stand out, by actively aligning your company with the value of sustainability you can stand out. Feel free to check out a previous Cannabis Marketing Association blog written by Lilli Keinaenen titled: Four Simple Swaps For Creating Sustainable Cannabis Brands to learn more being a sustainable cannabis brand.

Learn more about cannabis marketing alternatives by becoming a CMA member!
About The Author: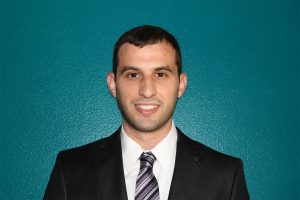 Alex Apfel has been studying Communications and Media Production at the University of Colorado Boulder for the past four years. After moving to Colorado for school he gained a better understanding of Cannabis and the community or industry that surrounds it. Alex recently starting working at the Cannabis Marketing Association as the Member Relations & Communications Coordinator. This has given him the opportunity to work more closely with cannabis professionals throughout the country.  
The information provided on this website does not, and is not intended to, constitute legal advice; instead, all information, content, and materials available on this site are for general informational purposes only. Information on this website may not constitute the most up-to-date legal or other information. This website contains links to other third-party websites. Such links are only for the convenience of the reader, user or browser; Cannabis Marketing Association and its members do not recommend or endorse the contents of the third-party sites.