By Vyla Carter
Terrapin Care Station, a Colorado-based dispensary, has made buying their products more fun with a recent marketing campaign. Now, with every purchase from their store, a customer receives one of nine tarot cards, made exclusively by Terrapin.
Terrapin's VP of Marketing, Tate Behning, and their Communications Director, Peter Marcus give us an inside look at this creative dispensary marketing idea:
How the Terrapin Tarot Cards Originated
The idea originated from Terrapin's social media and content manager, Shea Hennessy. Hennessy had her own cards read and brought the idea to incorporate tarot cards into Terrapin's brand content in some way.
She thought about how each card had its own depth and meaning and had a "world of relatable possibilities." Tarot cards and their meaning also aligned a lot with cannabis and the experience people have with it.
The dispensary has been trying to find ways to connect more with employees and customers since the onset of COVID-19. Creating custom tarot cards to include with every retail sale brought a fun way to interact with their community.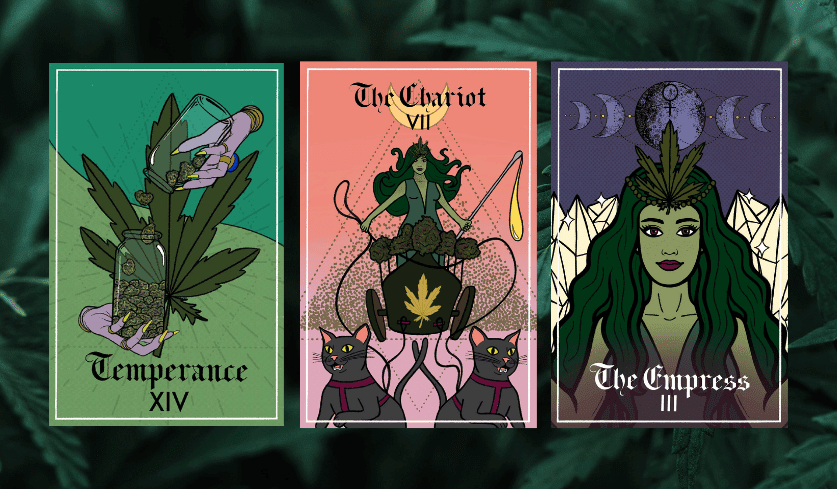 "It's just a way to interact with our customers, to interact with our employees, to give them something virtual to do online," Peter Marcus said.
Terrapin has already worked hard as a company to provide great prices, so now they want to provide something that is entertaining and fun, and does not have a direct tie to the product, according to Tate Behning.
"It was a great way to just encourage people to engage and have fun with very low barriers of entry," Behning said, "It really didn't matter… what products you liked…if you thought this was cool, you could join and partake."
Executing the Idea
When it comes to cannabis advertising and marketing restrictions, they said this campaign was actually easy to execute. Because it is not price-related or consumption focused and does not have any direct ties to cannabis on the surface, Behning said they had to worry less. They are able to promote it on their social media without much worry.
Vivian Perez, based in Denver, gave the company guidance and did readings that were shared on social media. Perez is an actual tarot card practitioner and herbalist.
Terrapin's graphic designer Audrey Scherer, an avid tarot fan, conceived the cards and drew the designs, incorporating cannabis elements and selecting cards from the Major Arcana.
When designing them they were diligent to made sure to be respectful of the practice and reading. "We just want to avoid being cursed," Behning joked.
The campaign was a way to honor people that do tarot readings and related practices, according to Behning.
They also worked with a Denver artist, Chelsea Smith of Nobel Lion Prints to make tote bags that went along with the tarot card theme. These bags say "burn terrapins, not witches."
On the back of all the tarot cards, Terrapin included different logos from their partners and brands they sell in-store. This was a way to include more people in the community and help those who have helped them.
Behning emphasized that these partnerships are key to building a creative dispensary marketing campaign. He advised to "build these relationships and work with people… people that are authentic and love their craft."
By doing this, you are supporting a community, the whole program, and including everyone in the fold.
The Success of Terrapin's Creative Dispensary Marketing Campaign
When creating this campaign, it was not done with any short-term measures in mind, Behning said. The motivation behind this was not to sell more product.
According to Marcus and Behing, the success of the campaign is measured more by the emotion it creates than actual number metrics. This campaign developed more organically than with an actual goal in mind. They really just wanted to have fun with it.
While sitting in the waiting room at one of Terrapin's storefronts, Marcus said he hears people talking about the tarot cards. Many of the store's employees say they have similar experiences when they have been in the lobby and a customer asks or talks about it. Behning says that he knows it is being talked about, and that is a success.
Apart from that, they notice new interest and engagement from a community that they have not seen before. "We saw more followers with like spellbinding usernames. We've gotten tagged is some artistic tarot content," Behning said.
"This is the long-term view of how we want to appreciate and enjoy… and have that relationship with our consumers," Behning said. He really emphasizes that this campaign is more for fun and creating a new way to interact and make people excited than to actually drive sales.
Terrapin continues to use this tarot card campaign as an in-store promotion. Learn more about it on their website.
For more cannabis marketing content, become a Cannabis Marketing Association member today!